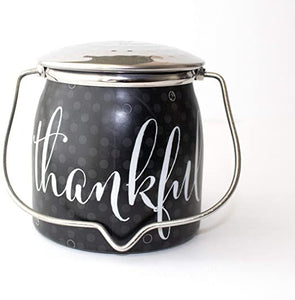 Thankful Sentiments Wrapped Milkhouse Candle 16oz
Regular price $24.00 $18.00 Sale
SAY IT WITH CANDLES: Our 16oz Sentiments jar candles feature your favorite Milkhouse fragrances in a classic butter jar with a special textured metal lid and handle and a uniquely designed wrap label with a special sentiment printed on it.

CLEAN BURNING: Milkhouse Butter Jar candles are 100% paraffin-free. Our candle jars are filled with soy wax candles infused with beeswax, making your decorative candle clean burning and soot free.

LONG LASTING: This soy candle will provide over 65 hours of burn time, and when it's finished, the candle's decorative butter jar is an eco-friendly, reusable jar decoration.

PREMIUM FRAGRANCE: Our scented soy candles are blended with premium fragrance oils and finished with double cotton wicks for maximum fragrance throw – candle décor creates ambience in any room.

MADE IN THE USA: Milkhouse candle jars use pure beeswax and natural soy wax from soybeans grown in America's Midwest. Our candle jars contain no artificial dyes and have two lead-free, cotton wicks for maximum fragrance throw.